Each month, we pick the best from Previews and list our recommendations of what new series to check out! We provide an excellent subscription service to many of our customers – why not join them and ensure you do not miss out on your favourite comic books each month?
NEW MARVEL COMICS SERIES FOR JULY
SEA OF STARS #1
Writer: Jason Aaron, Dennis Hallum, Artist/Cover Artist: Stephen Green
"LOST IN THE WILDS OF HEAVEN," Part One: Being a space trucker sounds like a cool job, but in reality, it can be boring as hell. So when recently widowed Gil gets a long-haul gig across the universe, he figures it's safe enough to bring his young son Kadyn along for the ride-that is, until their "big rig" gets bitten in half by a gigantic Space Leviathan! Now separated from his son-with a breached suit that's venting oxygen at an alarming rate-Gil must defy the odds and stay alive long enough to rescue Kadyn. But meanwhile, Kadyn seems to be getting all the help he needs from a talking Space Monkey riding a Space Dolphin… or maybe it's the strange powers he's suddenly manifesting?! From the writing duo of JASON AARON (SOUTHERN BASTARDS, Thor) and DENNIS HALLUM (Cloak & Dagger, Vader: Dark Visions), with dazzling art by STEPHEN GREEN (Hellboy and the B.P.R.D.) and cosmic colors by RICO RENZI (Spider-Gwen), comes a brand-new science fiction series with all the scope and heart of the The Neverending Story crossed with the imaginative weirdness of Miyazaki-an intense, galaxy-spanning adventure that's suitable for fans of all ages! UNEARTH #1
Writer: Cullen Bunn, Kyle Strahm, Artist/Cover Artist: Baldemar Rivas
SERIES PREMIERE! When a flesh-warping disease ravages a remote village in Mexico, a scientific task force travels to the inhospitable area to investigate the contamination. Tracing the source of the disease to a nearby cave system, the team discovers a bizarre, hostile ecosystem and a supernatural revelation from which they may never escape. This new subterranean nightmare is brought to you by writers CULLEN BUNN (REGRESSION) and KYLE STRAHM (SPREAD), and rising-star artist BALDEMAR RIVAS! REAVER #1
Writer: Justin Jordan, Artist: Rebekah Isaacs, Alex Guimaraes, Cover Artist: Becky Cloonan
SERIES PREMIERE! The continent of Madaras once promised a new start for settlers, but 200 years after its discovery, the war rages on. Deep within this savage and untamed land, a darkness builds at that must be stopped at all costs. To do so, the Imperials assemble six of its most despicable prisoners-a turncoat, a skin eater, a sorcerer and his bodyguard, a serial killer, and the Devil's Son-the only ones who can stop the end of the new world. They are Hell's Half-Dozen. Join JUSTIN JORDAN (LUTHER STRODE) and REBEKAH ISAACS (Buffy the Vampire Slayer) for REAVER-a dark, grim fantasy for a post-Game of Thrones world.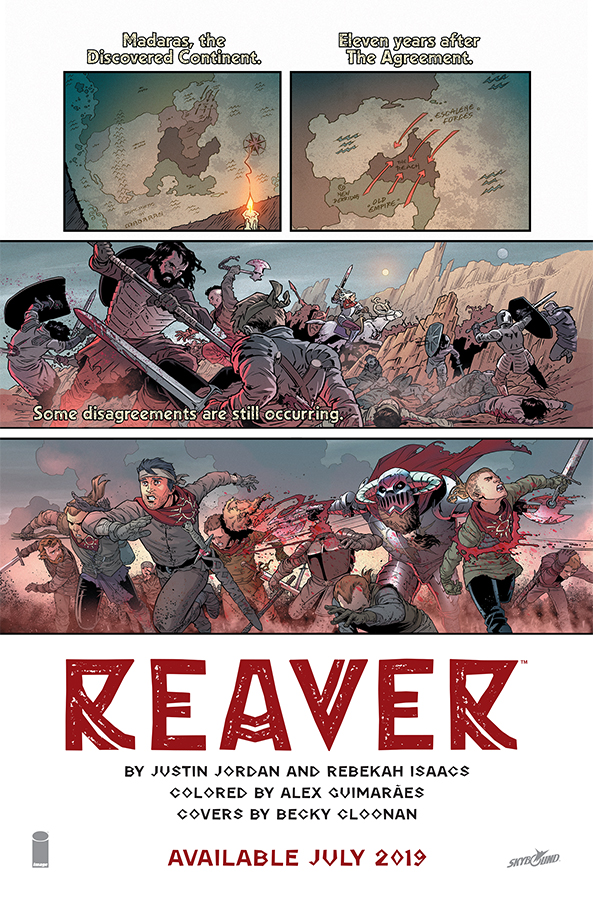 SPACE BANDITS #1 (OF 5)
Writer: Mark Millar, Artist/Cover Artist: Matteo Scalera
MINISERIES PREMIERE! Thena Khole and Cody Blue are among the universe's most wanted felons. Each the leader of their own criminal ops, they run heists across the galaxies-hopping from ship to ship to fleece everyone inside. But when both women are betrayed by their crews, the bandits only have one thing on their minds: REVENGE. POSTAL DELIVERANCE #1
Writer: Bryan Hill, Matt Hawkins, Artist: Raffaele Ienco, Cover Artist: Linda Sejic
NEW STORY ARC! POSTAL returns to find Mark struggling with the responsibilities and horrors of being the new Mayor of Eden, as the newest member of their community has brought his own personal war with him. Mark's mother, Laura Shiffron, tries to enjoy her retirement in Florida, but violence finds her… and violence might the the only way Laura Shiffron can find peace. Set Up Or Add To A Subscription