Every Wednesday is New Comic Book Day at Get Ready Comics! We are proud to bring a wide selection and variety of different comics from a range of publishers including; DC, Marvel, Image, Dark Horse, IDW, Valiant, Aftershock, Titan, Boom! Studios, Dynamite and much more. We provide an excellent subscription service to many of our customers – why not join them and ensure you do not miss out on your favourite comic books each month? We have listed what new titles we have coming in this week at Get Ready Comics. If you want to subscribe to any of the titles listed (if you can't see what you are looking for – let us know and we will order it in), simply scroll to the end of the page and fill in our subscription form.
THIS WEEK'S NEW SERIES & SPECIALS
BATMAN LAST KNIGHT ON EARTH #1 (OF 3)
Writer: Scott Snyder, Artist: Greg Capullo, Jonathan Glapion, Cover Artist: Greg Capullo
Bruce Wayne wakes up in Arkham Asylum. Young. Sane.
And…he was never Batman.
So begins this sprawling tale of the Dark Knight as he embarks on a quest through a devastated DC landscape featuring a massive cast of familiar faces from the DC Universe. As he tries to piece together the mystery of his past, he must unravel the cause of this terrible future and track down the unspeakable force that destroyed the world as he knew it…
From the powerhouse creative team of writer Scott Snyder and artist Greg Capullo, the team that reinvented Batman from the emotional depths of "Court of Owls" to the bombastic power of DARK NIGHTS: METAL, DC Black Label is proud to present the bimonthly, three-issue miniseries BATMAN: LAST KNIGHT ON EARTH, published at DC's standard comic trim size.
This could be the last Batman story ever told…
Prestige Format

DOG DAYS OF SUMMER #1
Writer: G. Willow Wilson, Joshua Williamson, Mariko Tamaki, Dan DiDio, Collin Kelly, Jackson Lanzing, Others, Artist: Stejpan Sejic, Tom Raney, Cully Hamner, Kyle Hotz, Cian Tormey, Others, Cover Artist: Francis Manapul
"Who let the dogs out?" DC does this summer as we unleash the beast within and join Krypto and Superman, Bat-Cow and Batman, Wonder Woman and Ferdinand and many more for eight sun-kissed stories in this can't-miss animal-sized spectacular!

HORROR COMICS #1
Writer: Bradley Golden, Artist: Andrey Lunatik, Cover Artist: Mickey Clausen
In a small town near Miami, Florida, Thomas Wright, the local ice cream man serves up sweet, delicious new ice cream flavors he makes himself….from the flesh of his murder victims! Timmy LaLa Ice Cream delivers the taste of terror with some ice-SCREAM treats!

IRON MAIDEN LEGACY OF THE BEAST: NIGHT CITY #1
Writer: Llexi Leon, Ian Edington, Artist: Kevin West, Cover Artist: Santi Casas
Iron Maiden's Eddie once again battles evil in a city of eternal night, but he can't do it alone.
Teaming up with edgy rocker, Charlotte, togther they will fight an all powerful force threatening the world and maybe even the fabric of the universe.

KILLER GROOVE #1
Writer: Ollie Masters, Artist/Cover Artist: Eoin Marron
In 1970s Los Angeles, Jonny is one of the thousands of musicians trying to make it big while working a crummy bar job, and getting drunk with his whiskey soaked P.I. friend, Jackie. When Jonny gets tangled up with a local mob hitman, he not only finds a new and violent career, but maybe the inspiration for his music as well. From Ollie Masters (The Kitchen, Snow Blind) and Eoin Marron (HER INFERNAL DESCENT, Army of Darkness, James Bond) comes the next rock'n'roll crime sensation, with a beat that'll kill you dead.

LUMBERJANES SOMEWHERE GREEN #1 (ONE-SHOT)
Writer: Seanan McGuire, Mari Costa, Artist/Cover Artist: Alexa Bosy
When Jo, April, Mal, Molly and Ripley stumble upon several muddy, spiky, cactus kittens in the woods, they take on the sacred mission of bringing the kittens back to their home. However, when they reach the garden menageries and it fs Dryad tender, they find that there is a deeper problem at the heart of the garden.and the Roanokes are the only ones who can help! Writer Seanan McGuire (Spider-Gwen) and artist Alexa Bosy team up for an entirely new Lumberjanes story!

MY LITTLE PONY SPIRIT OF THE FOREST #1 (OF 3)
Writer: Ted Anderson, Artist/Cover Artist: Brenda Hickey
The Cutie Mark Crusaders are back! When Apple Bloom, Scootaloo, and Sweetie Belle take a trip into the woods, they find a forest filled with trash! Just what could be causing this mess?! Looks like it's another mystery for our favorite fillies to solve-and one where not everything is as it seems…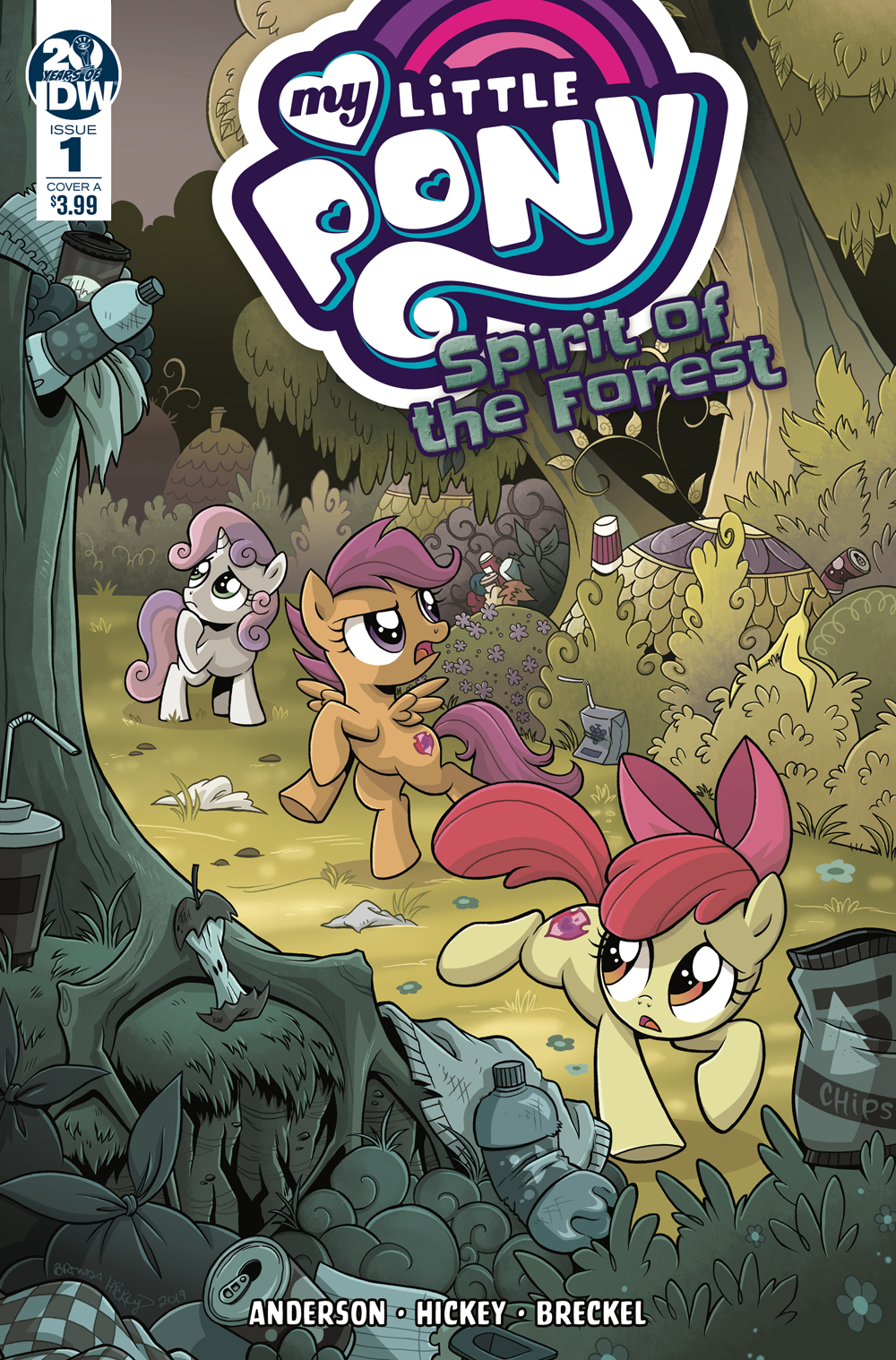 SHE SAID DESTROY #1
Writer: Joe Corallo, Artist/Cover Artist: Liana Kangas
Over millennia, Brigid, Goddess of theSun, has conquered and converted the entire solar system into worshipping her and her alone, save one space colony. The witches of Fey are the last believers of The Morrigan, Goddess of Death, Brigid's sister and the only other God left. As Brigid's forces prepare for one final battle, The Morrigan prepares to do what she does best: Destroy!

STAR WARS: ORIGINAL MARVEL YEARS #108 (ONE-SHOT)
Writer: Matthew Rosenberg, Artist: Giuseppe Camuncoli, Luke Ross, Cover Artist: Walter Simonson
THE ALL-NEW NEXT ISSUE TO THE ORIGINAL MARVEL STAR WARS SERIES!
A long time ago on a spinner rack far, far away…STAR WARS comics were a LOT different than they are now! With wild and intricately plotted storylines, MARVEL's historic original run introduced an array of unique heroes and villains to play alongside GEORGE LUCAS's incredibly popular science-fantasy characters. In celebration of MARVEL'S 80TH ANNIVERSARY, this Legends-era sequel to legendary comic book writer Archie Goodwin's "Crimson Forever" reunites HAN SOLO, LUKE SKYWALKER, PRINCESS LEIA, CHEWBACCA, C-3PO and R2-D2 with JAXXON, AMAIZA FOXTRAIN, DOMINA TAGGE and VALANCE THE HUNTER in a galaxy-threatening, nostalgic roller coaster! STRAP YOURSELVES IN!

STRANGER THINGS SIX #1
Writer: Jody Houser, Artist: Edgar Salazar, Keith Champagne, Cover Artist: Aleksi Briclot
A teenage girl with precognitive abilities, has struggled through a lifetime of exploitation only to end up the pawn of a government agency that wants to harness her powers for its own ends. You've seen the show Stranger Things, but this is your first glimpse of the strangeness that happened before the series began!

X-MEN GRAND DESIGN X-TINCTION #1 (OF 2)
Writer: Ed Piskor, Artist/Cover Artist: Ed Piskor
The series that has critics and fans raving returns for its final installment! The ruination of the X-Men revisited! Re-live the now-classic storylines like Mutant Massacre and The Fall of the Mutants. With appearances by Longshot, Cable, and The Marauders! Created soup to nuts by comic book superstar Ed Piskor in the Mighty Marvel Manner!

PREVIEWS #369 JUNE 2019
DC PREVIEWS #14 JUNE 2019
MARVEL PREVIEWS #23 JUNE 2019
2000 AD #2133
AGE OF X-MAN X-TREMISTS #4 (OF 5)
AMAZING SPIDER-MAN #22
ASCENDER #2
BAD LUCK CHUCK #3 (OF 4)
BATMAN LAST KNIGHT ON EARTH #1 (OF 3)
BATMAN LAST KNIGHT ON EARTH #1 (OF 3) VAR ED
BLACK PANTHER #12
BLACK SCIENCE #40
BLOODSHOT RISING SPIRIT #7
CATWOMAN ANNUAL #1
CODA #12 (OF 12)
DAREDEVIL #6
DARK RED #3
DOCTOR WHO 13TH #8
DOG DAYS OF SUMMER #1
DOOMSDAY CLOCK #10 (OF 12)
DOOMSDAY CLOCK #10 (OF 12) VAR ED
FANTASTIC FOUR #10 WR
FIGHT CLUB 3 #5
GIANT MAN #2 (OF 3)
GRIMM FAIRY TALES #28
HEROES IN CRISIS #9 (OF 9)
HORROR COMICS #1
IMMORTAL HULK #18
IRON MAIDEN LEGACY OF THE BEAST: NIGHT CITY #1
JUSTICE LEAGUE DARK #11
KILLER GROOVE #1
LIFE IS STRANGE #5

LUMBERJANES SOMEWHERE GREEN #1
MAGNIFICENT MS MARVEL #3
MAJOR X #4 (OF 6)
MIGHTY MORPHIN POWER RANGERS #39
MY LITTLE PONY SPIRIT OF THE FOREST #1 (OF 3)
PUNK MAMBO #2 (OF 5)
RAGS #4
RICK & MORTY #50
SHE SAID DESTROY #1
SPAWN #297
SPIDER-MAN CITY AT WAR #3 (OF 6)
STAR TREK YEAR FIVE #2
STAR WARS ORIG MARVEL YRS #108
STRANGER THINGS SIX #1
SUPERIOR SPIDER-MAN #6
TAROT WITCH OF THE BLACK ROSE #116 MOURNING AFTER
THANOS #2 (OF 6)
THOR #13 WR
TMNT URBAN LEGENDS #13
TONY STARK IRON MAN #11
TRANSFORMERS #6
TRUE BELIEVERS SILVER SURFER RUDE AWAKENING #1
TRUE BELIEVERS SPIDER-MAN KRAVENS LAST HUNT #1
UNSTOPPABLE WASP #8
WALK THROUGH HELL #10
WAR OF REALMS SPIDER-MAN & LEAGUE OF REALMS #2 (OF 3)
WAR OF REALMS WAR SCROLLS #2 (OF 3) WR
WILD STORM #23
WOLVERINE LONG NIGHT ADAPTATION #5 (OF 5)
X-23 #12
X-MEN GRAND DESIGN X-TINCTION #1 (OF 2)

Set Up Or Add To A Subscription