Every Wednesday is New Comic Book Day at Get Ready Comics! We are proud to bring a wide selection and variety of different comics from a range of publishers including; DC, Marvel, Image, Dark Horse, IDW, Valiant, Aftershock, Titan, Boom! Studios, Dynamite and much more. We provide an excellent subscription service to many of our customers – why not join them and ensure you do not miss out on your favourite comic books each month? We have listed what new titles we have coming in this week at Get Ready Comics. If you want to subscribe to any of the titles listed (if you can't see what you are looking for – let us know and we will order it in), simply scroll to the end of the page and fill in our subscription form.
THIS WEEK'S NEW SERIES & SPECIALS
SUPERMAN YEAR ONE #1 (OF 3)
Writer: Frank Miller | Artist/Cover Artist: Danny Miki, John Romita Jr | Cover Artist Variant: Frank Miller
From the burning world of Krypton to the bucolic fields of Kansas, the first chapter of SUPERMAN YEAR ONE tracks Clark Kent's youth in Kansas, as he comes to terms with his strange powers and struggles to find his place in our world. DC BLACK LABEL is proud to present the definitive origin of Superman as rendered by the legendary comics creators Frank Miller and John Romita Jr.!
PRESTIGE FORMAT
MATURE READERS
GO GO POWER RANGERS FOREVER RANGERS #1 (ONE-SHOT)
Writer: Ryan Parrott | Artist: Eleonora Carlini, Francesco Mortarino | Cover Artist: Dan Mora
Everything in Go Go Power Rangers has been leading to THIS MOMENT! Don't miss the epic conclusion as The Power Rangers face off against Alpha 1 and the reveal of Rita's true plan; a familiar newcomer whose arrival in Angel Grove will change everything.
HOWARD THE DUCK #1 FACSIMILE EDITION
Writer: Steve Gerber | Artist/Cover Artist: Frank Brunner
He's a refugee from Duckworld, trapped in a world he never made! He's Howard the…Barbarian?! That's right – sword in hand, Howard the Duck is storming the castle of Pro-Rata, would-be Chief Accountant of the Universe! Can Howard survive a run-in with Pro-Rata's Cosmic Calculator, save the imprisoned Beverly Switzler and avoid becoming dragon food? Find out in the astonishing first issue of the solo series that established Howard the Duck as the satirical smash hit of the '70s! Waugh! It's one of the all-time-great Marvel comic books, boldly re-presented in its original form, ads and all! Reprinting HOWARD THE DUCK (1976) #1. LAB RAIDER #1 (OF 4)
Writer: Matt Miner | Artist/Cover Artist: Creees Lee
A pair of young vigilantes break into a black market laboratory where illegal tests are being run on animals. What at first seems like a simple rescue mission becomes more dangerous when they stumble on secret military experiments, discovering to their horror that the animals they sought to help have been turned into something different, something monstrous… and, once the cages are opened, the rescuers quickly become the prey of these weaponized beasts. This high-octane action comic blends vigilante heroics with sci-fi horror for a brutal new adventure.

PSI-LORDS #1
Writer: Fred Van Lente | Artist: Renato Guedes | Cover Artist: Rod Reis
Who are the cosmic beings known only as the Psi-Lords? And how will they change the course of the Universe in this brand-new ongoing series?
Four astronauts awake in an otherworldly prison with no memory of how they got there! What is their connection to the Psi-Lords? And how will they escape?
Fred Van Lente is crafting a lively sci-fi mystery, and Renato Guedes' art is (literally) out of this world.

USAGI YOJIMBO #1
Writer: Stan Sakai | Artist/Cover Artist: Stan Sakai
Follow the adventures of rabbit r?nin Miyamoto Usagi as he wanders Edo period Japan on his warrior's journey. In the start of this three-part story, Usagi becomes embroiled in a puppet drama where the players are not quite what they seem! Written, drawn, and lettered by comics legend Stan Sakai! Colors by Tom Luth (Groo the Wanderer)!
The start of an exciting new chapter in the epic ongoing saga of Usagi, now published by IDW!
This series will be in all color!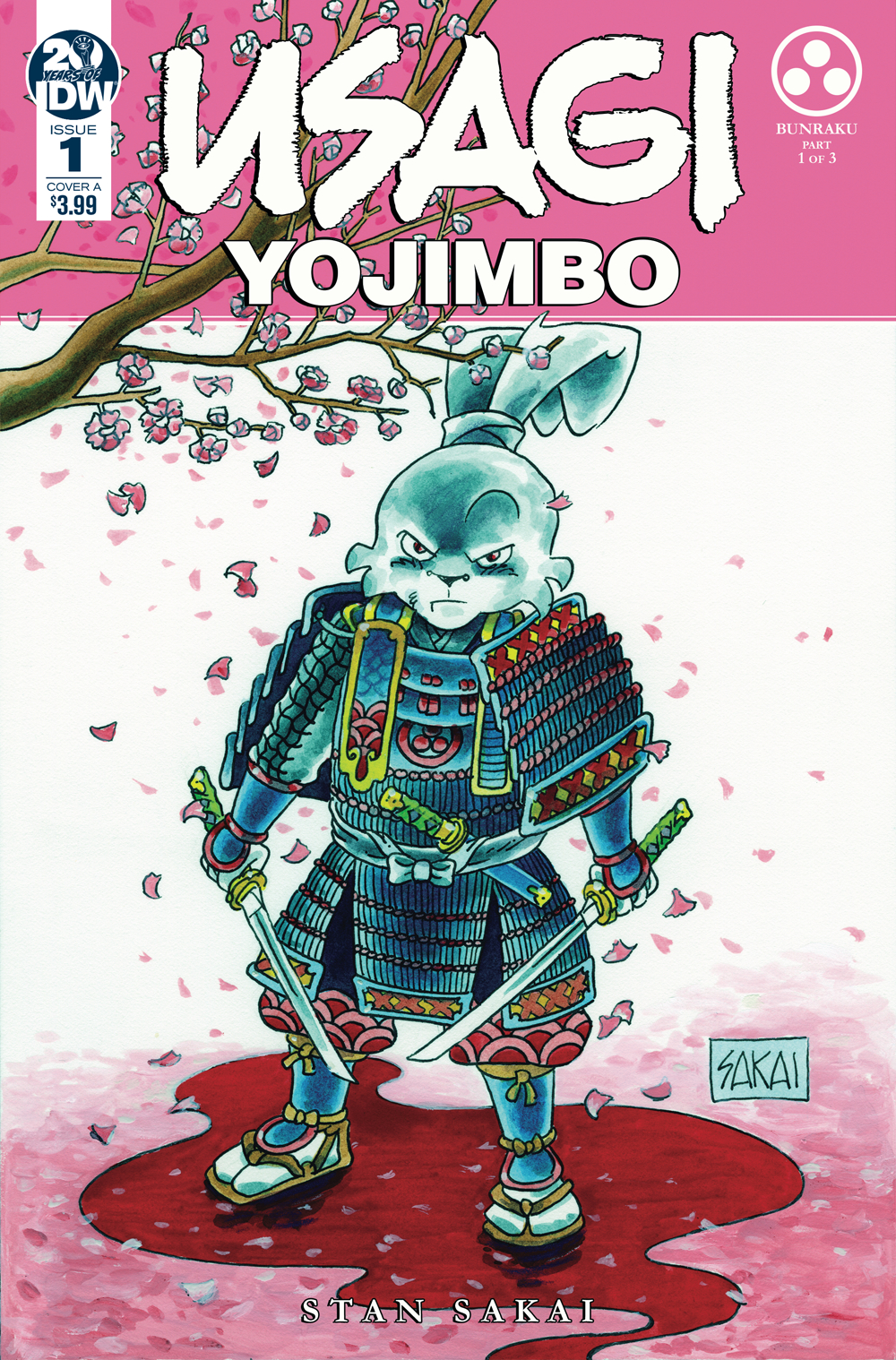 WARLORD OF MARS ATTACKS #1
Writer: Jeff Parker | Artist: Dean Kotz | Cover Artist: Dave Johnson
JEFF PARKER (Aquaman, Future Quest) and DEAN KOTZ (Dungeons & Dragons) invite you to behold the battle between the dashingly heroic John Carter Of Mars and the never-endingly power-hungry little green men of Mars Attacks! HOW has John encountered never encountered these Martians before!? WHY do these cackling monsters want to conquer Mars? And WHAT happens when the war spills over to Earth!? Find out in the stunning first chapter, ATTACK FROM SPACE!

2000 AD PROG #2136
2000 AD SCI-FI SPECIAL 2019
ADVENTURE TIME MARCY & SIMON #6 (OF 6)
AGE OF X-MAN AMAZING NIGHTCRAWLER #5 (OF 5)
AGE OF X-MAN NEXTGEN #5 (OF 5)
AQUAMAN #49
ASSASSIN NATION #4
BATMAN #73
BLACK BADGE #11
CAPTAIN AMERICA #11
CAPTAIN MARVEL #7 WR
CURSE WORDS #22
DAREDEVIL #7
DEADPOOL #14 WR
DOCTOR WHO 13TH #9
EXCELLENCE #2
FAIRLADY #3
FAITHLESS #3 (OF 5)
FARMHAND #9
FIREFLY #7
GIDEON FALLS #14
GO GO POWER RANGERS FOREVER RANGERS #1
GRETEL #4 (OF 5)
GUARDIANS OF THE GALAXY #6
HELLBOY AND BPRD BEAST OF VARGU #1
HIT-GIRL SEASON TWO #5
HONOR AND CURSE #5
HOWARD THE DUCK #1 FACSIMILE EDITION
INVISIBLE KINGDOM #4
JAMES BOND 007 #8
JUSTICE LEAGUE #26
LAB RAIDER #1 (OF 4)
LITTLE BIRD #4 (OF 5)
LUCIFER #9
MARVELS ANNOTATED #4 (OF 4)
MARY SHELLEY MONSTER HUNTER #3

MIDDLEWEST #8
MILES MORALES SPIDER-MAN #7
MONSTRESS #23
NEIL GAIMAN AMERICAN GODS MOMENT OF STORM #3
NIGHTWING #61
OUTPOST ZERO #10
PEARL #10
PSI-LORDS #1
RAT QUEENS #16
RED SONJA VAMPIRELLA BETTY VERONICA #2
RUMBLE #13
SABRINA TEENAGE WITCH #3 (OF 5)
SAVAGE SWORD OF CONAN #6
SHURI #9
SKYWARD #14
SPIDER-MAN & LEAGUE OF REALMS #3 (OF 3) WR
SPIDER-MAN CITY AT WAR #4 (OF 6)
STAR WARS #67
STAR WARS DOCTOR APHRA #33
STAR WARS TIE FIGHTER #3 (OF 5)
SUPERMAN YEAR ONE #1 (OF 3) MILLER COVER
SUPERMAN YEAR ONE #1 (OF 3) ROMITA COVER
TEEN TITANS #31
TMNT URBAN LEGENDS #14
TONY STARK IRON MAN #13 WR
TRUE BELIEVERS SPIDER-MAN SPIDEY FIGHTS IN LONDON
TRUE BELIEVERS SPIDER-MAN WEDDING AUNT MAY AND DOC
UNCANNY X-MEN #20
UNSTOPPABLE WASP #9
USAGI YOJIMBO #1
WALK THROUGH HELL #11
WAR OF REALMS JOURNEY INTO MYSTERY #5 (OF 5) WR
WAR OF REALMS WAR SCROLLS #3 (OF 3) WR
WARLORD OF MARS ATTACKS #1
WARNING #8
WOLVERINE INFINITY WATCH #5 (OF 5)

Set Up Or Add To A Subscription