Every Wednesday is New Comic Book Day at Get Ready Comics! We are proud to bring a wide selection and variety of different comics from a range of publishers including; DC, Marvel, Image, Dark Horse, IDW, Valiant, Aftershock, Titan, Boom! Studios, Dynamite and much more. We provide an excellent subscription service to many of our customers – why not join them and ensure you do not miss out on your favourite comic books each month? We have listed what new titles we have coming in this week at Get Ready Comics. If you want to subscribe to any of the titles listed (if you can't see what you are looking for – let us know and we will order it in), simply scroll to the end of the page and fill in our subscription form.
THIS WEEK'S NEW SERIES & SPECIALS
BATMAN VS RAS AL GHUL #1 (OF 6)
Writer: Neal Adams | Artist/Cover Artist: Neal Adams
Gotham City is under siege by terrorists, and Batman is determined to find the source. But when Boston Brand tries to intervene, he discovers an even more disturbing and deadly truth: the terrorists are led by an inhuman monster. Ra's al Ghul has volunteered his own private security force to aid the GCPD, and now they are the only thing standing between nuclear terror and the townspeople! But al Ghul's true goal is hidden from everyone's eyes. He will destroy the city and kill Batman-this time for good. Watching in horror is… Bruce Wayne?

HARLEY QUINN & POISON IVY #1 (OF 6)
Writer: Jody Houser | Artist: Adriana Melo | Cover Artist: Elena Casagrande
Harley Quinn and Poison Ivy are taking their show on the road in this new miniseries! They'll have to evade villains and heroes alike while they explore their relationship and unpack their time and experiences at Sanctuary. Set after the events of HEROES IN CRISIS and smack in the middle of "Year of the Villain," it's a journey across the DC Universe that will change their friendship forever…if they live that long!

LEGION OF SUPER HEROES MILLENNIUM #1 (OF 2)
Writer: Brian Michael Bendis | Artist: Jim Lee, Dustin Nguyen, Andrea Sorrentino, Andre Araujo, Others | Cover Artist: Ryan Sook
Brought to you by some of comics' greatest talents, this epic story spans the course of 1,000 years and, for the very first time, connects all of DC's future timelines! Starring the unlikeliest of DC heroes as she learns to cope with newfound immortality and roams through the disparate societies of Batman Beyond, Kamandi and Tommy Tomorrow, wrestling with her own inner demons and desperately trying to find her purpose in an ever-changing world. Do not miss this truly unique take on tomorrow's DC Universe, all leading up to a special launch on the millennium!

ABSOLUTE CARNAGE SYMBIOTE SPIDER-MAN #1
Writer: Peter David | Artist: Francesco Mobili | Cover Artist: Greg Land
AN UNTOLD TALE OF A SYMBIOTIC HOST FROM YESTERYEAR…
During its first visit to New York City, the alien symbiote that would come to be known as Venom bonded to a host that wasn't Spider-Man or Eddie Brock. Face front, True Believers, as this mysterious man meets his destiny… at the hands of CARNAGE!

STAR WARS JEDI FALLEN ORDER DARK TEMPLE #1 (OF 5)
Writer: Matthew Rosenberg | Artist: Paolo Villanelli | Cover Artist: Marco Checchetto
IN THE GLORY DAYS OF THE REPUBLIC, TWO JEDI WILL GET CAUGHT UP IN A BATTLE THEY CAN'T UNDERSTAND – A BATTLE FOR THEIR LIVES!
Leading into Jedi: Fallen Order the upcoming third-person action-adventure Star Wars title from Lucasfilm and Respawn Entertainment, DARK TEMPLE follows the Jedi Master ENO CORDOVA and his impulsive Padawan CERE JUNDA on their most dangerous mission yet. The Jedi Council has sent them to the remote planet Ontotho to oversee the peaceful excavation of a mysterious temple that has been uncovered. But they will come to find that what surrounds the temple may be even more dangerous than the mysteries within it. Clandestine local resistance forces and ruthless corporate security troops in a war for the fate of Ontotho – and the Jedi are caught in the middle!

WEB OF BLACK WIDOW #1 (OF 5)
Writer: Jody Houser | Artist: Stephen Mooney | Cover Artist: Jung-Geun Yoon
BLACK WIDOW: YEAR ONE!
One of Marvel Comics' longest-running female heroes finally gets her due! Natasha Romanoff is the deadliest spy in the Marvel Universe and the beating heart of the Avengers. But when a mysterious figure starts exploiting her past, the Widow may have to go back to Black – and off the grid. Who can she trust in this web of deceit? And more importantly – can her friends trust her? Don't miss the spy tale of the century!

BATTLEPUG #1
Writer: Mike Norton | Artist/Cover Artist: Mike Norton, Allen Passalaqua
SERIES PREMIERE
The hit fan-favorite webcomic created by the Eisner Award-winning duo of MIKE NORTON and ALLEN PASSALAQUA is now a NEW COMIC SERIES!
It's been a few years since the last Kinmundian saved the world with the help of his faithful Battlepug, but a new threat arises. The epic tale returns as our favorite barbarian and his trusty overgrown dog renew their quest for insane adventure! Same dog. NEW TRICKS!

EVERYTHING #1
Writer: Christopher Cantwell | Artist/Cover Artist: I. N. J. Culbard
EVERYTHING is a gleaming new mega-department store which arrives to extraordinary thrill-and rapidly escalates to inexplicable mania in the small town of Holland, Michigan.
When random hellish fires and unshakable psychic disturbances start to overtake the community, a few-like depressive out-of-towner Lori and a suspicious local named Rick-begin to suspect EVERYTHING and its catalog-perfect manger, Shirley.
Who-or what-exactly is in charge here . . . and what insidious plans are in store?

MIDNIGHT VISTA #1
Writer: Eliot Rahal | Artist: Clara Meath | Cover Artist: Juan Doe
Oliver Flores and his stepfather, Nomar Perez, were turning right onto Midnight Vista Road when they were both abducted by aliens. To Oliver's mother, they were both just missing. To the police, they were declared legally dead. And to everyone else growing up in Albuquerque, Oliver Flores was the "Milk Carton Kid". His life was the cautionary tale of an eight-year-old who was kidnapped and killed by his stepdad while out for some ice cream. But now – years later – a fully grown adult Oliver walks back into town. He has been returned…and he remembers everything.
Based on a very personal, true story from writer Eliot Rahal (HOT LUNCH SPECIAL), with out-of-this-world art from Clara Meath, MIDNIGHT VISTA will make you believe in little grey men.

MYSTERE #1
Writer: Ben Meares | Artist: Sergio Arino | Cover Artist: Igor Vitorino
Mary Medina has been through a lot. Born with the ability to raise the dead, she has had many adventures-both as Mary and her alter-ego, Mystere-across the Grimm Universe. But now, Mary is content to leave her life as Mystere behind her. However, when mysterious deaths begin popping up too close to home, Mary must become Mystere once again to stop the horror that is being unleashed on her newfound home!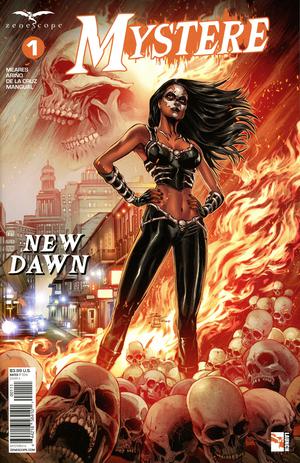 PRETTY DEADLY RAT #1 (OF 5)
Writer: Kelly Sue DeConnick | Artist/Cover Artist: Emma Rios
KELLY SUE DeCONNICK (BITCH PLANET, Captain Marvel) and EMMA R OS (MIRROR, I.D.) begin a new chapter in the dark and deadly golden era of Hollywood.
Select praise for PRETTY DEADLY:
"Pretty Deadly going to old Hollywood is the best turn this dark fable has taken yet. One of my favorite comics, aiming right at my jugular. I can't wait for more." –Ed Brubaker
"With its poetry and violence, there's nothing like this. Cherish it." –Kieron Gillen

SOMETHING IS KILLING CHILDREN #1
Writer: James Tynion IV | Artist/Cover Artist: Werther Dell'Edera
GLAAD Award-winning writer James Tynion IV (Memetic, Batman: Detective Comics) teams with artist Werther Dell'Edera (Briggs Land) for an all-new limited series about staring into the abyss to find your worst fears staring back.
When the children of Archer's Peak begin to go missing, everything seems hopeless. Most children never return, but the ones that do have terrible stories-impossible stories of terrifying creatures that live in the shadows.
Their only hope of finding and eliminating the threat is the arrival of a mysterious stranger, one who believes the children and claims to see what they can see.
Her name is Erica Slaughter. She kills monsters. That is all she does, and she bears the cost because it MUST be done STAR TREK DISCOVERY AFTERMATH #1 (OF 3)
Writer: Kirsten Beyer, Mike Johnson | Artist: Tony Shasteen | Cover Artist: Angel Hernandez
You saw the stunning conclusion of the second season of Star Trek: Discovery-now witness the Aftermath! After discovering Michael Burnham's personal log, Spock begins to unravel the story of Burnham's journey from orphan to Starfleet officer-and the secret history of the Red Angel as well. But as he confronts the secrets of Burnham's past, he'll also have to grapple with his own. An amazing new Star Trek: Discovery miniseries begins here!
An all-new miniseries tying directly into season two of the hit CBS All Access series!

TRIAGE #1 (OF 5)
Writer: Phillip Sevy | Artist/Cover Artist: Phillip Sevy
A dedicated nurse named Evie Pierce awakens to an unfamiliar world alongside two doppelgängers-one, a young and snarky superhero; the other, a hardened rebel military commander of a post-apocalyptic world. When a mysterious figure begins to hunt them down, the three women must work together to survive and discover why they were assembled.

VAMPIRELLA RED SONJA #1
Writer: Jordie Bellaire | Artist: Drew Moss | Cover Artist: Terry Dodson, Rachel Dodson
The first ONGOING series, co-starring The Daughter Of Drakulon and The She-Devil With A Sword! From Eisner winner JORDIE BELLAIRE (Buffy The Vampire Slayer, Redlands) and DREW MOSS (Star Wars) comes a saga spanning space and time, filled with horror, adventure, mystery and murder!

ALPHA FLIGHT TRUE NORTH #1 (ONE-SHOT)
Writer: Jim Zub, Jed MacKay, Ed Brisson | Artist: Max Dunbar, Djibril Morissette-Phan, Scott Hepburn | Cover Artist: Nick Bradshaw
STRONG AND FREE!
Grab your hat and come travel light… adventure lies just around the bend! Three brand-new tales no one has ever told…until now! Join the greatest creators the Great White North has to offer as we unearth the secret history of the classic Alpha Flight stalwarts: Puck! Snowbird! Talisman! Northstar! Marrina! Guardian! Vindicator!

DCEASED A GOOD DAY TO DIE #1 (ONE-SHOT)
Writer: Tom Taylor | Artist: Laura Braga, Darick Robertson, Others | Cover Artist: Ryan Sook
While the mainstays of the Justice League-Superman, Green Lantern and Wonder Woman – battle the worldwide infection in the pages of DCEASED, a group of other heroes work to stop the impending apocalypse-no matter who they have to kill! Mr. Terrific assembles a motley group of surviving heroes including Mister Miracle, Big Barda, John Constantine, Blue Beetle and Booster Gold as they attempt to fight back against the tide of death. Can this ragtag group save the world where the Justice League has thus far failed?

RICK AND MORTY PRESENT FLESH CURTAINS #1 (ONE-SHOT)
Writer: Lilah Sturges | Artist/Cover Artist: CJ Cannon
Learn the true origins of THE FLESH CURTAINS, Rick's rock band with Bird Person and Squanchy! Booed off of every stage, they consider giving up… until Rick invents a machine capable of writing songs people can't resist. But when their multi-dimensional concert goes awry, Rick suddenly finds himself in massive debt to a ruthless alien loan shark. Will Rick do the safe thing and play the music guaranteed to make the band a success, or do the insane thing and play the music guaranteed to alienate almost everyone in order to impress his favorite musician?

2000 AD PROG #2147
ABSOLUTE CARNAGE SCREAM #2 (OF 3)
ABSOLUTE CARNAGE SYMBIOTE SPIDER-MAN #1
AGENTS OF ATLAS #2 (OF 5)
ALPHA FLIGHT TRUE NORTH #1
BATMAN #181 FACSIMILE EDITION
BATMAN TEENAGE MUTANT NINJA TURTLES III #5 (OF 6)
BATMAN VS RAS AL GHUL #1 (OF 6)
BATTLEPUG #1
BERSERKER UNBOUND #2 (OF 4)
BUFFY THE VAMPIRE SLAYER #8
CHAMPIONS #9
CHARLIES ANGELS VS BIONIC WOMAN #3
CONAN THE BARBARIAN #9
CURSE WORDS #24
DARK RED #6
DCEASED A GOOD DAY TO DIE #1
DCEASED A GOOD DAY TO DIE #1 HORROR VAR ED
DCEASED A GOOD DAY TO DIE #1 VAR ED
DEATH-DEFYING DEVIL #2
DEATHSTROKE #47
DESCENDENT #5
DIE #7
DOLLAR COMICS DETECTIVE COMICS #854
DOOM PATROL WEIGHT OF THE WORLDS #3
DOOMSDAY CLOCK #11 (OF 12)
DOOMSDAY CLOCK #11 (OF 12) VAR ED
DREAMING #13
EVERYTHING #1
FALLEN WORLD #5 (OF 5)
FANTASTIC FOUR #14
FUTURE FOUNDATION #2
GHOST SPIDER ANNUAL #1
GREEN LANTERN #11
HARLEY QUINN #65
HARLEY QUINN & POISON IVY #1 (OF 6)
HARLEY QUINN & POISON IVY #1 (OF 6) HARLEY VAR
HARLEY QUINN & POISON IVY #1 (OF 6) POISON IVY VAR

HOUSE OF X #4 (OF 6)
IMMORTAL HULK #23
IRONHEART #9
JUSTICE LEAGUE #31
LEGION OF SUPER HEROES MILLENNIUM #1 (OF 2)
LOIS LANE #3 (OF 12)
MARVEL ACTION SPIDER-MAN #8
MIDNIGHT VISTA #1
MYSTERE #1
OLD MAN QUILL #9 (OF 12)
OVER GARDEN WALL SOULFUL SYMPHONIES #2 (OF 5)
OZ HEART OF MAGIC #5 (OF 5)
PRETTY DEADLY RAT #1 (OF 5)
PUNISHER #15
REDNECK #23
RICK AND MORTY PRESENT FLESH CURTAINS #1
SAVAGE AVENGERS #5
SEA OF STARS #3
SECTION ZERO #6 (OF 6)
SOMETHING IS KILLING CHILDREN #1
SONIC THE HEDGEHOG TANGLE & WHISPER #2 (OF 4)
SPACE BANDITS #3 (OF 5)
SPAWN #300
SPAWN #300 CVR C CAPULLO
SPAWN #300 CVR E CAPULLO & MCFARLANE
STAR TREK DISCOVERY AFTERMATH #1 (OF 3)
STAR WARS #71
STAR WARS JEDI FALLEN ORDER DARK TEMPLE #1 (OF 5)
SUPERGIRL #33
SUPERMAN UP IN THE SKY #3 (OF 6)
TRANSFORMERS GHOSTBUSTERS #4 (OF 5)
TRIAGE #1 (OF 5)
TRUE BELIEVERS HULK INTELLIGENT HULK #1
USAGI YOJIMBO #4
VAMPIRELLA RED SONJA #1
WEB OF BLACK WIDOW #1 (OF 5)
WICKED & DIVINE #45

Set Up Or Add To A Subscription