Every Wednesday is New Comic Book Day at Get Ready Comics! We are proud to bring a wide selection and variety of different comics from a range of publishers to our shop. We often have over 70 new titles in for New Comic Book Day ranging from new series, one-shots and ongoing titles from publishers including; DC, Marvel, Image, Dark Horse, IDW, Valiant, Aftershock, Titan, Boom! Studios, Dynamite and much more. We provide an excellent subscription service to many of our customers – why not join them and ensure you do not miss out on your favourite comic books each month?
We have listed what new titles we have coming in this week at Get Ready Comics. If you want to subscribe to any of the titles listed (if you can't see what you are looking for – let us know and we will order it in), simply scroll to the end of the page and fill in our subscription form.
OUR PICK OF THE WEEK
BATMAN TEENAGE MUTANT NINJA TURTLES II #1 (OF 6) DC Comics/IDW Publishing
(W) James TynionIV (A/CA) Freddie Williams II
The team behind the smash-hit crossover series is back to reunite the Dark Knight and the Heroes in a Half-Shell. When Donatello goes looking for a new mentor to help him improve his fighting skills, he opens a doorway to another reality, hoping to summon the Turtles' one-time ally, Batman. But instead, he gets sent to Gotham City and someone else comes through the open portal-Bane! Suddenly, there's a new gang boss in New York and he's out to unite all the other bad guys under him. Can Donnie get back in time and bring Batman with him to help his brothers before Bane causes irreparable destruction? Co-published with IDW.
---
HOLIDAY SPECIALS
DC UNIVERSE HOLIDAY SPECIAL 2017 #1 DC Comics
(W) Greg Rucka, Tom King, Dennis O'Neil, Jeff Lemire, Max Landis, Christopher Priest, Shea Fontana, Joshua Williamson (A) Steve Epting, Rafael Albuquerque, Bilquis Evely, Otto Schimdt, Neil Googe, Francis Manapul (CA) Andy Kubert
DC Comics' finest talents have assembled to bring you a holiday special like you've never seen before! Join Superman, Wonder Woman and the Flash as they deliver powerful messages of hope like only The Worlds Greatest Super-Heroes can! Plus: Sgt. Rock fights the Nazis on Hanukah, the Teen Titans take on the literal ghost of Christmas past, and Swamp Thing battles that creeping feeling of existential dread! And don't miss the legendary Denny O'Neil's return to comics with an all-new Batman story! 
FAITHS WINTER WONDERLAND SPECIAL #1 Valiant Entertainment
(W) Marguerite Sauvage (A) Francis Portela, Mj Kim (CA) Marguerite Sauvage
Eisner Award and Russ Manning Award-nominated artistic sensation Marguerite Sauvage (FAITH, Shade the Changing Girl) takes the helm for a fanciful tale of Faith Herbert's very first holiday extravaganza!
As cheer fills the air, Faith "Zephyr" Herbert is about to take a trip down the rabbit hole…and into a mind-bending winter wonderland where every day is something special! But hiding behind the tinsel, all is not what it seems… White rabbit meets red-nosed reindeer as Faith squares off against a realm of make-believe and merriment for a whimsical flight of superhero fancy!
KLAUS AND THE CRISIS IN XMASVILLE #1 Boom! Studios
(W) Grant Morrison (A/CA) Dan Mora
Eisner Award-winning creator Grant Morrison (All-Star Superman) and Russ Manning Award winner Dan Mora (Saban's Go Go Power Rangers) reunite for a brand-new Klaus Special!
An evil Santa from an alternate dimension has founded an evil soda corporation that uses Christmas and Santa as a marketing tactic to build their fortunes.
Only Klaus can defeat the Pola Cola Corp and the zombie-like Santas that are in the evil Santa's thrall.
---
NEW SERIES & ONE-SHOTS
BARBARELLA #1 Dynamite Entertainment
(W) Mike Carey (A) Kenan Yarar (CA) Kenneth Rocafort
Earth's star-crossed daughter is back! When Barbarella wanders into a war zone, the theocratic rulers of Parosia arrest and imprison her. A prison break is brewing, but now that she knows what the Parosians do to their own citizens Barbarella decides to make this fight her own…
BLACK BOLT #8 LEGACY Marvel Comics
(W) Saladin Ahmed (A/CA) Christian Ward
THE MIDNIGHT KING RETURNS TO EARTH Part 1
After months off-world, the former Inhuman King Black Bolt returns to Earth to find judgment awaiting him. In his absence, the Inhumans were rounded up, imprisoned and now struggle to maintain their fragile democracy. But someone must pay the price for the horrors they've endured.  Will Black Bolt survive his people's wrath? PLUS: Includes 3 bonus MARVEL PRIMER PAGES!
HAWKEYE #13 LEGACY Marvel Comics
(W) Kelly Thompson (A) Leonardo Romero (CA) Julian Totino Tedesco
FAMILY REUNION Part 1
Can L.A. really handle TWO HAWKEYES?  Just as Kate reaches out to ask for Clint's help with finding her dead mother, Clint shows up needing help of his own. An unknown party is gunning for him and it kicks off a chase across Los Angeles with two Hawkeyes trying to stay one step ahead, fully alive, and with minimal property damage…well, okay, with moderate property damage. Re-united and it feels so good!
PARADISO #1 Image Comics
(W) Ram V. (A/CA) Dev Pramanik
The Midnight Event forever changed the world. Now, centuries later, Jack Kryznan arrives on the outskirts of Paradiso City, haunted by fragments of childhood memories and in possession of a mysterious device-one with the power to change the destiny of this living breathing metropolis, the people who dwell within, and the guardians who strive for and against it.
ROCKOS MODERN LIFE #1 Boom! Studios
(W) Ryan Ferrier (A) Ian McGinty (CA) Jorge Monlongo
Ryan Ferrier (Regular Show) and Ian McGinty (Adventure Time) continue BOOM! Studios' partnership with Nickelodeon with all-new stories about everyone's favorite wallaby! When Rocko faces unemployment, a terrible living situation, and increasingly slim job prospects, he is forced to find out just how far he is willing to go to get a job. Features a backup story by KC Green where Ed Bighead finds himself in the dentist chair of Dr. Hutchison!
SLEEPLESS #1 Image Comics
(W) Sarah Vaughn (A/CA) Leila Del Duca
Lady "Poppy" Pyppenia is guarded by the Sleepless Knight Cyrenic, but danger is around every corner once the new king is coronated. Writer SARAH VAUGHN (ALEX + ADA, ETERNAL EMPIRE) and artist LEILA DEL DUCA (SHUTTER, AFAR) team up with editor / colorist ALISSA SALLAH and letterer DERON BENNETT for this new fantasy romance.
STREET FIGHTER SHADALOO SPECIAL Udon Entertainment
(W) Ken Siu-Chong, Omar Dogan (A) Omar Dogan (A/CA) Hanzo Steinbach
Featuring four short stories, previously only available in UDON's hardcover Street Fighter collections. Balrog and Vega fight as only kings can! Juri and Crimson Viper hunt Decapre! Cammy teams up with Delta Red, and the poisonous F.A.N.G causes mayhem! It's a villainous collection of rare tales in this one-shot special!
WITCHBLADE #1 Image Comics
(W) Caitlin Kittredge (A/CA) Roberta Ingranata
"LIFE AFTER," Part One
Gunned down and left for dead on a New York rooftop, Alex Underwood's life should have ended there-but instead, at the moment of death, she became host to the Witchblade, a mystical artifact that grants the woman wielding it extraordinary powers. But the power comes with a heavy cost, and Alex finds herself thrust into the center of an unseen battle raging on the snowy streets of NYC. Demons are real and walking among humans, and every one of them is intent on taking out the Witchblade's newest host before she becomes too strong to kill. But the artifact chose Alex for a reason, and she's not going down without a fight.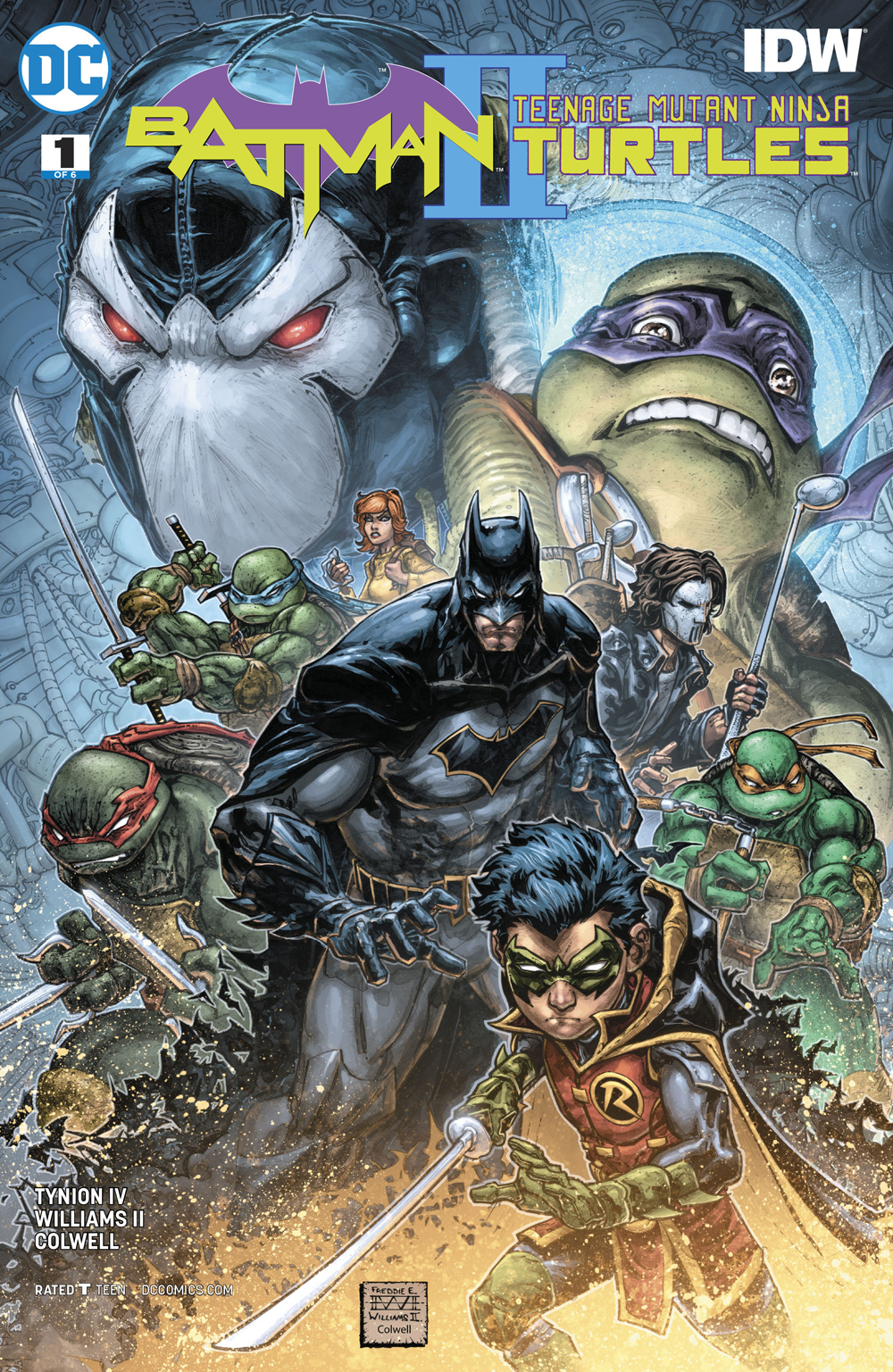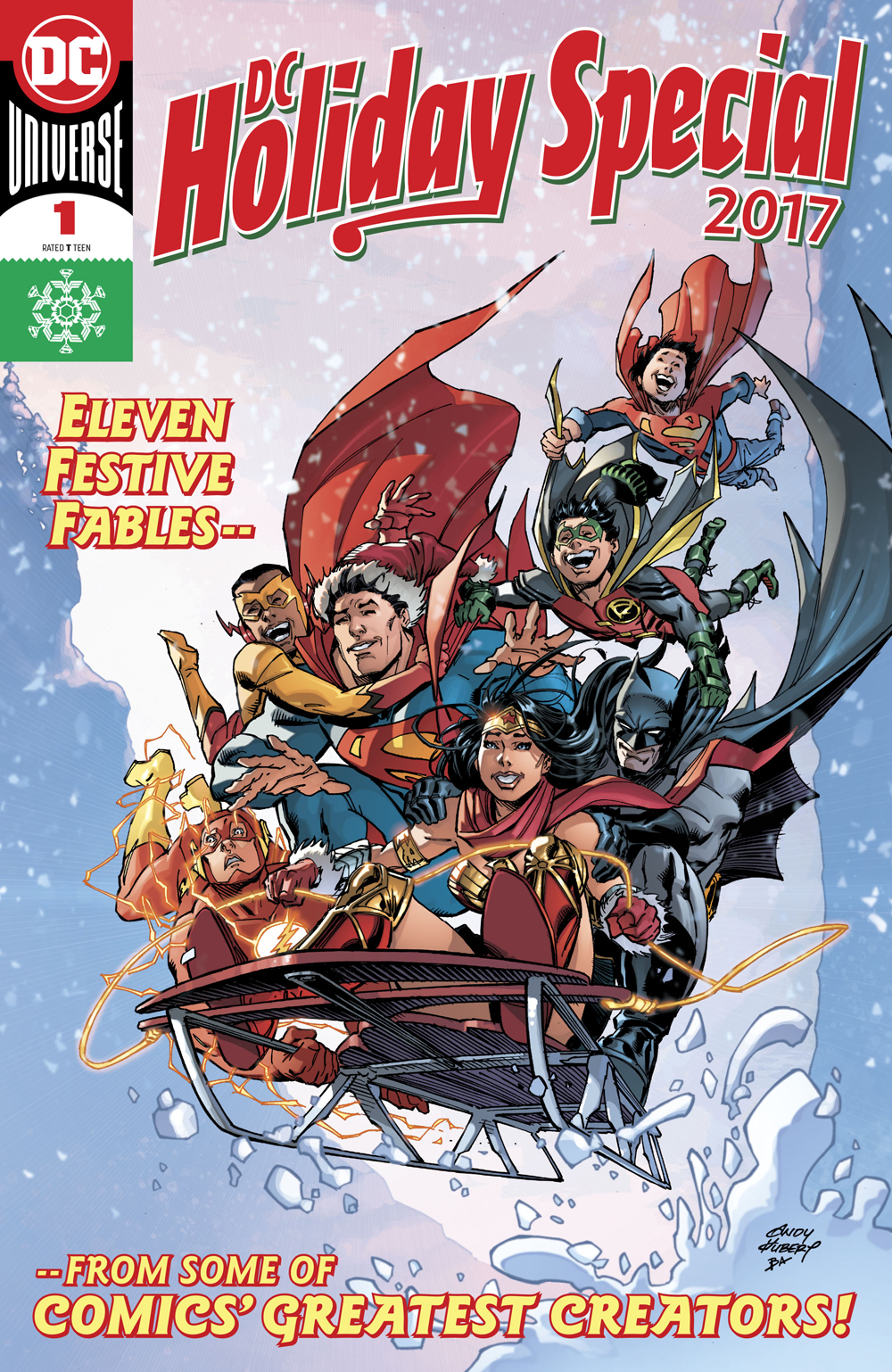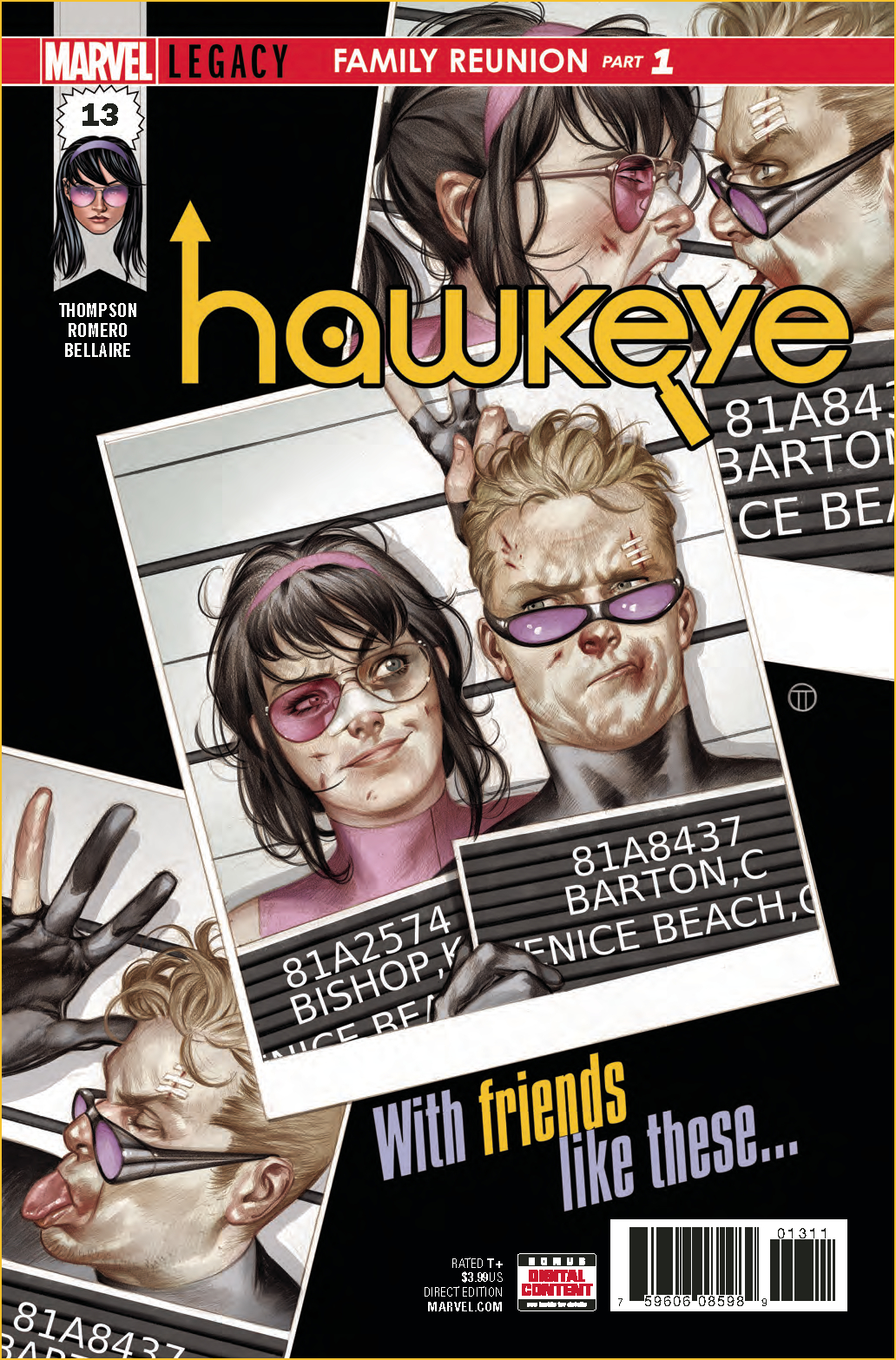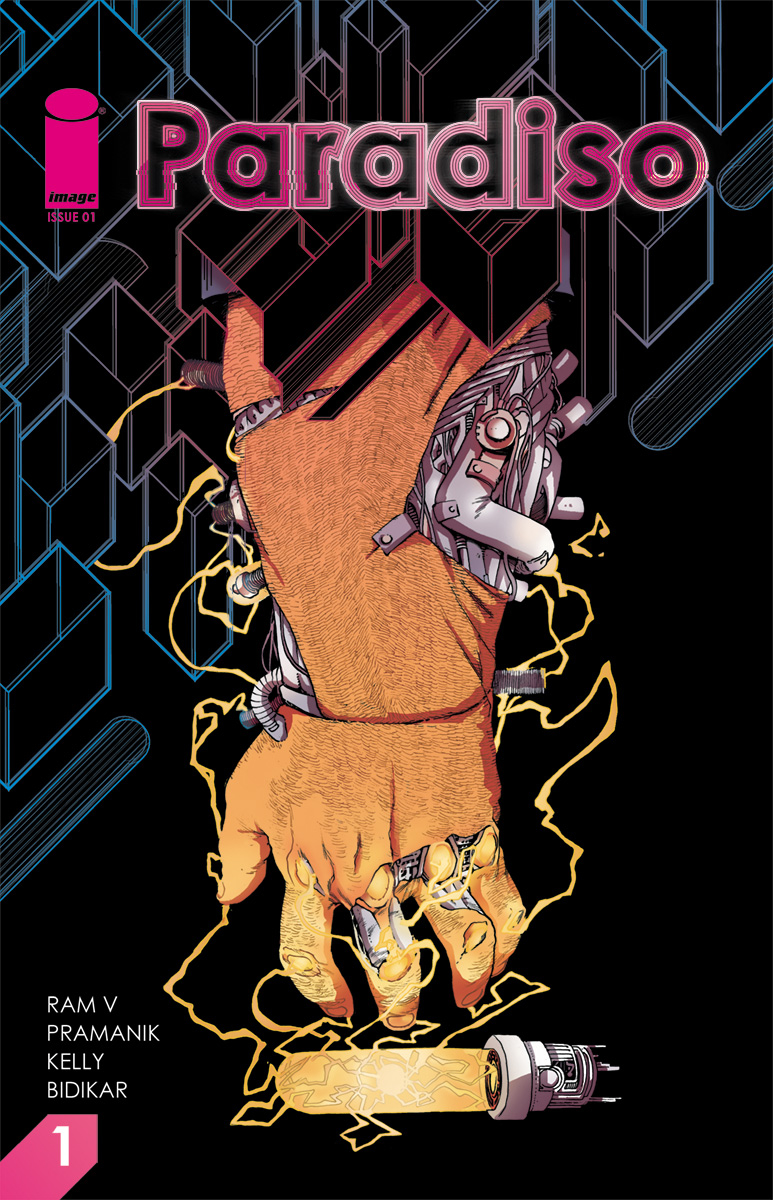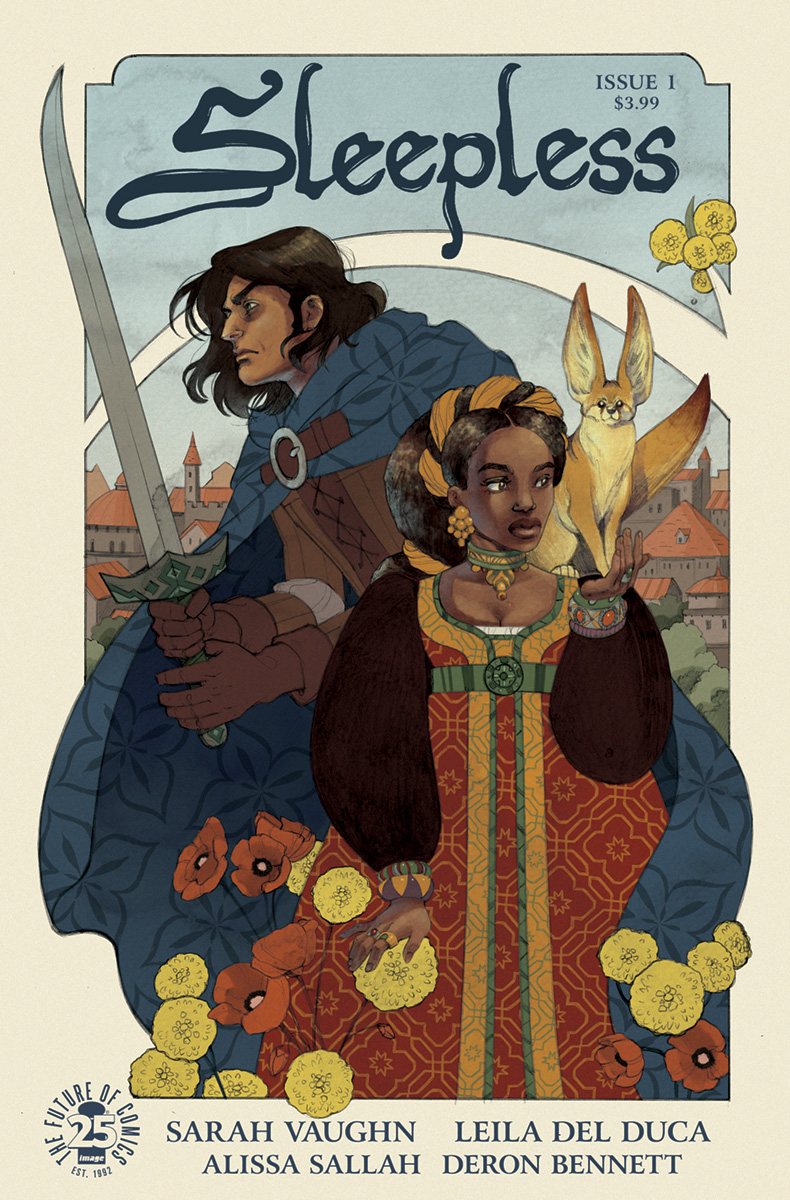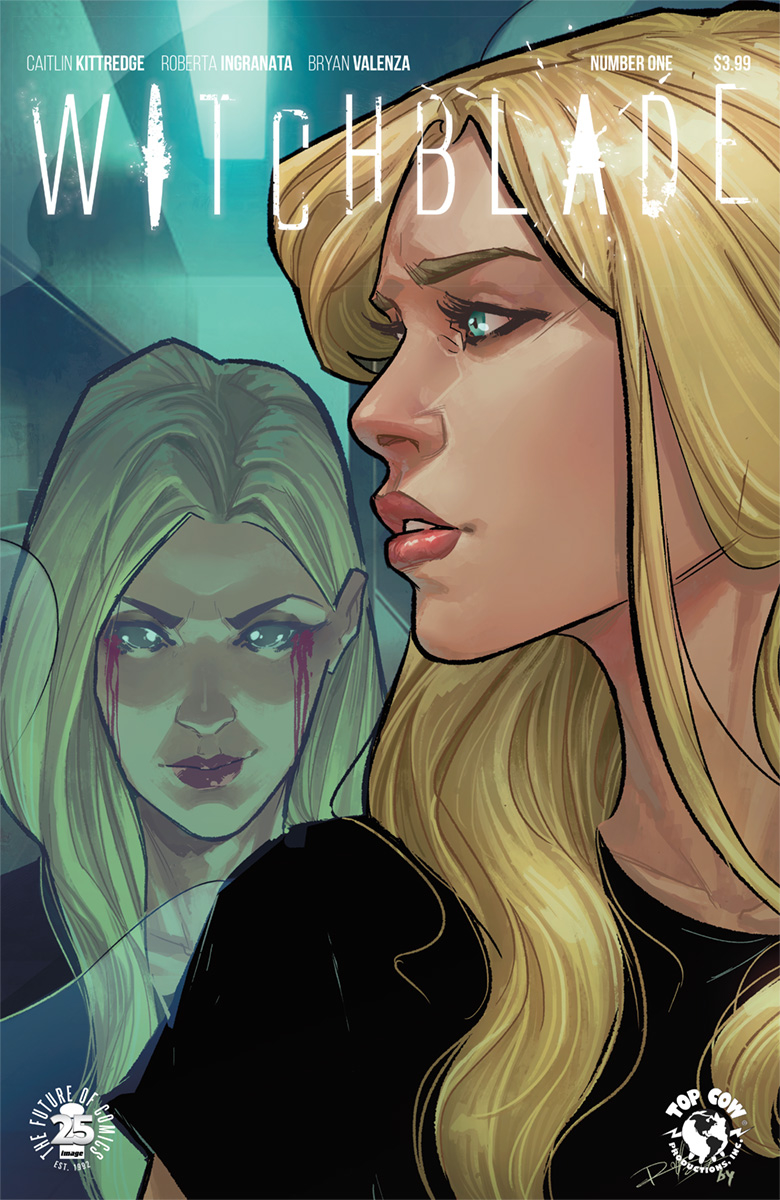 2000 AD PROG #2060
AGENT 47 BIRTH OF HITMAN #2 
AMORY WARS GOOD APOLLO #9 (OF 12) (MR)
ASTONISHING X-MEN #6
AVENGERS #674 LEGACY
BANE CONQUEST #8 (OF 12)
BARBARELLA #1 
BATMAN #36
BATMAN TEENAGE MUTANT NINJA TURTLES II #1 (OF 6)
BATMAN WHITE KNIGHT #3 (OF 8)
BATMAN WHITE KNIGHT #3 (OF 8) VAR ED
BLACK BOLT #8 LEGACY
BLACK BOLT #8 LEGACY LENTICULAR VARIANT
BLACK CLOUD #6 
BLACK LIGHTNING COLD DEAD HANDS #2 (OF 6)
BLACK SABLE #3 (OF 6) 
BOMBSHELLS UNITED #7
CYBORG #19
DASTARDLY AND MUTTLEY #4 (OF 6)
DC UNIVERSE HOLIDAY SPECIAL 2017 #1
DEADMAN #2 (OF 6)
DEATHSTROKE #26
DF CHAMPIONS #1 WAID SIGNED
DOCTOR STRANGE #382 LEGACY
EXTREMITY #9
FAITHS WINTER WONDERLAND SPECIAL #1 
FIX #10 
GREEN ARROW #35
GREEN LANTERNS #36
GUARDIANS OF GALAXY #148 LEGACY
GWENPOOL #23 LEGACY
HACK SLASH RESURRECTION #2 
HARLEY & IVY MEET BETTY & VERONICA #3 (OF 6)
HAWKEYE #13 LEGACY
HAWKEYE #13 LEGACY LENTICULAR VARIANT
ICEMAN #8 LEGACY
INJUSTICE 2 #15
IRON FIST #75 LEGACY
IRON MAIDEN LEGACY OF THE BEAST #2 (OF 5)
JETSONS #2
JIM HENSON LABYRINTH 2017 SPECIAL #1
JIM HENSON POWER OF DARK CRYSTAL #9 (OF 12)
JUSTICE LEAGUE #34
KLAUS AND THE CRISIS IN XMASVILLE #1
MOONSTRUCK #4
NIGHTWING #34
PAPER GIRLS #18
PARADISO #1 
PUPPET MASTER CURTAIN CALL #2
RASPUTIN VOICE OF DRAGON #2 (OF 5)
RED SONJA #11 
ROCK CANDY MOUNTAIN #6 
ROCKOS MODERN LIFE #1 
SAVAGE DRAGON #229 
SHADOW BATMAN #3 (OF 6)
SHERLOCK THE GREAT GAME #5 (OF 6) 
SLEEPLESS #1 
SPIRITS OF VENGEANCE #3 (OF 5) LEGACY
STAR TREK TNG MIRROR BROKEN #5 (OF 6)
STAR WARS DARTH VADER #9
STREET FIGHTER RELOADED #2 (OF 6)
STREET FIGHTER SHADALOO SPECIAL 
SUPERMAN #36
UBER INVASION #10 
WALKING DEAD #174 
WITCHBLADE #1 
Set Up Or Add To A Subscription